Date posted: September 8th, 2015
A new research facility is now online hosted by the CWRU Astronomy Department – Prof Earle Luck's FGK Star Spectral Library.  The library contains high resolution spectra (R from 30000 to 60000 with wavelength coverage from 400 to 700 nm depending on the source) of more than 1500 F,G, and K stars of all luminosity classes including spectra of more than 300 Cepheid variables.  …Read more.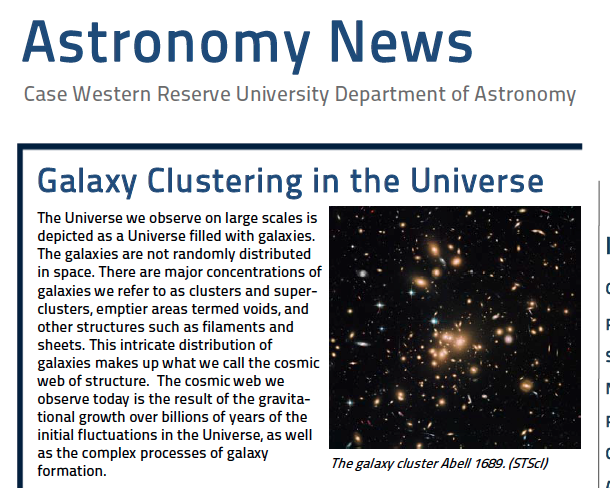 Date posted: August 27th, 2015
We've just published the 2015 edition of our annual CWRU Astronomy newsletter. You can read about Professor Zehavi's work on galaxy clustering, get recent updates from ongoing faculty projects studying the Milky Way's halo and galaxies in the Virgo Cluster, hear about what our students and alumni are up to, and lots more! …Read more.
Date posted: August 22nd, 2015
In a new paper published in the Astrophysical Journal Letters, an international team of astronomers led by CWRU Astronomy professor Chris Mihos report the discovery of three "ultra-diffuse galaxies" in the Virgo Cluster of galaxies. …Read more.